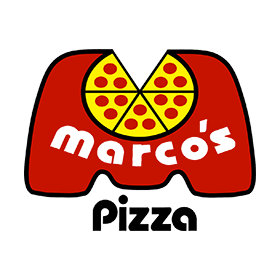 Visit Store
$0 avg. savings
- Cash Bonus
Marco's Coupons, Promo Codes and Deals
23 Verified Coupons
Get a large specialty pizza for $12.99. Participating locations only.
Get Large 1 topping pizza for $9.99
Facebook Special- Free Medium Pizza with the purchase of a large pizza with at least 2 toppings!
Get $2 Off Any Specialty Pizza (Only at participating locations)
Get X large 1 topping pizza for $12.99. Limited time only!
Medium Specialty + Medium 2 Topping + Cheezy Bread for $19.99 at Toledo OH location.
Get 2 Large 1 Topping Pizzas, CheezyBread & 2Ltr for $24.99
Get BBQ Chicken Pizza or any Medium Chicken Specialty Pizza for $10.99. Limited time offer.
Get $4 Off $20 Regular price items.
Any Large Specialty Pizza + Order of CheezyBread $15
Get $3 Off $20 Online Order
Large specialty pizza + Large 2-topping pizza for $21.99 Set to expire 6-6-2010, but they often...
$10.99 for 3 topping large pizza.
2 small cheese pizzas and 1 toppings for only $10. Limited time offer.
Large Speciality Pizza plus Cheesy Bread for 15.99
Get CinnaSquares with your order for $3 when you purchase an XL 1-topping pizza at the featured...
$1.00 off 12-inch sub or Family Salad
Get a Free half gallon of Pure Leaf Tea worth $12.99 with large Ultimate Magnifico Pizza. ...
2 medium cheese + 1-topping pizzas, 1 cheezybread and 1 2lt. (pepsi/diet pepsi/mt.dew)
Get 2 Medium 1 Topping Pizzas + Cheezy Bread + 2 Lt. for $21.99 (valid at participating locations)
2 Toppings on XLG pizza + 10 Pc of wings only $19.99