Skip to Content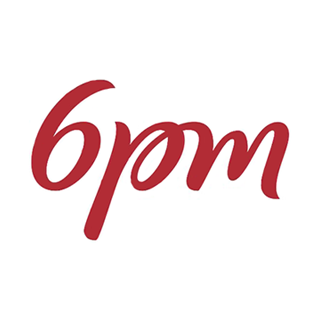 6pm
6pm Coupons, Promo Codes and Deals
Take PayPal Honey with you to 30,000+ sites
Did you know we automatically try coupons on store sites? Add our extension and let us do all the work for you.
Currently, we only support Chrome, Safari, Firefox, Edge, and Opera.
More Information from 6pm
We try to make sure all the info shown here and under "FAQs" is accurate. However, all details, including specifics around store programs, policies, offers, discounts, incentives, and rewards programs, are provided for informational purposes only, subject to change, and may be inaccurate or out of date. You can check the store site for the most current info and full details.
About 6pm

6pm is a fashion discount destination where shoppers can find clothing, shoes and accessories online. 6pm is the clearance site for Zappos.com, and the deals are steep for casual and high end brands alike.Thousands of items from shoes, clothes, activewear, handbags, and jewelry are always on sale, and you can expect great value on 6pm.com. Customers know that products sell quickly and that they can expect a great deal without checking elsewhere, even when they are purchasing in a hurry! Discounts can range anywhere from 30% to 90% off of typical retail prices. Shoppers also love that 6pm.com has the convenience of quick delivery and the same customer service that can be expected from Zappos. 6pm makes shopping your favorite luxury brands convenient and affordable!
Information from this store
Free Shipping Policy
Customers who spend $50 or more on 6pm receive free shipping any day! Even if you don't spend the minimum for free shipping, 6pm has reasonable shipping charges. Standard shipping is under $4, 2 day Business shipping is $9.99, and 1 day Business shipping is $14.99. 6pm is very quick to fulfill orders, meaning most packages (even with free shipping) arrive within 5-7 business days of purchase!
Return Policy
6pm makes returns easy, and accepts returns within 30 days of the original purchase. It's very simple and convenient to sign in online, select the items you'd like to return, and return your selected things via the original packaging. Alternatively, you can print a return slip to include in your own packaging. The customer simply writes the return label on the box, and mails package through their preferred shipping method. 6pm will credit your return in a timely manner upon receiving the returned items.
Shopping Tips
Coupon codes
6pm offers birthday codes and occasional codes during holiday months. Because their pricing is so discounted already, shoppers can be assured they're getting a good deal even without a coupon code. Codes that 6pm has previously run include 10% off for the Fourth of July and Free Shipping on Black Friday.
Sign up for emails
6pm already provides rock bottom outlet pricing. They run around a half a dozen sales per day focused on particular styles, brands or items. They send notifications of these sales through email, so be sure to sign up for their promotional emails!