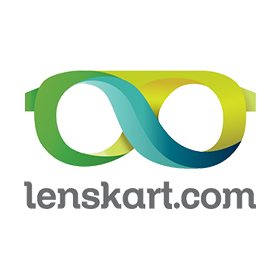 lenskart Coupons, Promo Codes and Deals

Visit Store
$0 avg. savings
- Cash Bonus
Get Vincent Chase Wayfarer Sunglasses for Rs. 399 + Free Shipping charges. No Need to Apply any Coupon Code
Get Your First Free Frame And Pay Only For Lenses. While Stocks lasts. No Code required.
First Power Sunglasses Free ranging from Rs.599 to Rs.1999
Buy 1 get 1 free offer on sunglasses
Rs 300 Off your order of Rs 599 or more in Eyeglasses. No code needed
Upto 15% Off Bausch and Lomb contact lenses
Get 20% Off Vincent Chase sunglasses
Refer a friend and get Rs.500 credit for your purchase. Hurry!!!
Get an Extra Rs. 400 Off Contact lenses Over Rs. 2400
Get Premium Polarized Sunglasses for Rs.299
Up to 70% Off + Flat 50% Off -Aviator Sunglasses
Get Rs.50 off booking of home eye checkup by certified refractionist at your home/office
Get flat 25% off on purchase of Rs 1500 and above
Rs 100 off on purchase of Rs 599 & above (Applicable on eyeglasses & sunglasses) Terms and conditions (NA on Rayban. Fas...
60% Off on all Sunglasses on purchase of Rs 499 & above
Free T-Shirt on Purchase of Eyeglasses or Sunglasses Worth Rs.499+
Rs. 500 Off on orders over Rs. 1500
3 Sentral Sunglasses for Rs.1000
Rs. 300 discount on minimum purchase of Rs. 699. Not Valid on RayBan/ Vogue/ Oakley/ Contact Lenses.
Get 2 Sunglasses For Rs. 699 only with code.
Free MTV Sunglasses on purchase of Rs 1000 & above.
Extra 10% Off on all products of Rs. 900+. Has Exclusions. Please visit merchants website for details
Get Eyeglasses with Lens for Rs500
25% Off Eyeglasses and Sunglasses
Get a flat Rs 300 off on Rs 599 & above (Eyeglasses). Choose from a wide collection of frames.
Get 10% discount on your purchase of contact lenses which cost more than Rs. 1500.Offer Limited.Buy now.
Extra 40% Flat Off using coupon code
Flat 30% Off on purchase of Rs 1500 & above on Sunglasses, Eyeglasses & Contact lenses.
Save Rs. 300 on sunglasses and eyeglasses above Rs. 1500.