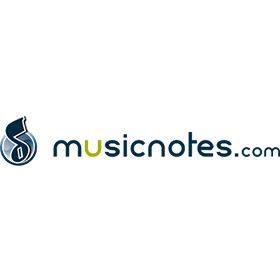 Visit Store
$23 avg. savings
- Cash Bonus
Musicnotes Coupons, Promo Codes and Deals
17 Verified Coupons
Free delivery on purchase of $100.
Get $1 off Any Order of $10 or more.
$10 OFF orders $35+. Expires 3/31/2011.
Get 15% off digital sheet music and guitar tab.
Save 20% On Any Order of $20 or more
Back to School Sale! Take 20% Off Any Order.
Get 25% off Music Notes Musical Pattern Blue Green Purple Tie
Get an Extra 20% off Orders $20+
Save $10 on purchase of $60 or above.
Save $5 On Any Order of $25 or more.
Get $10 off any order of $40 or more.
Free Download of Guitar Guru software! Learn your favorite songs on guitar today! Did this...
Get a Free Sheet Music Download
Save 25% On Your 1st Order when you Sign up for Musicnotes E-News
Get a Free Sheet Music Download with Musicnotes
"Every Teardrop is a Waterfall" a Coldplay
25% OFF orders $25+ on in Guitar Guru Sessions.
"I Love You This Big" by American Idol Winner Scotty McCreery
Lady Gaga Aa!a we have sheet music for the most popular songs from the new album, with more on their way.
Get 25% off your next sheet music order when you sign up for emails. Discount applies to new subscribers only.
"As Long As Youre There" Aa!a Glee Cast
Get 45% off 10 classic Instrumental holiday solos.
Get 70% Off Beloved Works of the Romantic Era
Iridescent Aa!a Linkin Park
$5 off $25+ Digital Sheet Music, Digital Guitar Tab, or Guitar Guru Sessions Purchase Expire...