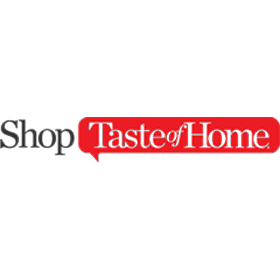 Visit Store
Shop Taste of Home Coupons, Promo Codes and Deals
25 Verified Coupons
20% Off Orders for a limited time.
Taste of Home Grand Prize Winners now only $9.99 with Free Shipping. Expires on: Jan 31
20% OFF ORDERS with code LST78 through 8.31.11 or later.
10% OFF ORDERS for a limited time.
Save 74% plus Free Shipping
Shipping for only $4.99 on entire order
1940s 3 DVD Collection: stories, photos and home movies from the 1940s. Now: $5 through 2.15.13...
Buy 2, Get 1 Free on select Taste of Home Specialty Books. (Exp. 12/31/2050)
free shipping on mounted medal
2-Book Set of Best Recipes: 2010 Taste of Home Annual Recipes and Contest Winning Annual Recipes...
50% off and Free shipping on Taste of Home's Light Cooking Done Right. (Exp. 12/31/2050)
70% Off on Your Purchase of Best Recipes 2-Book Set + Free Shipping and Free Gift
Save 20% on orders $50 or more
Only $15.99 on Reminisce 1940s DVD Set plus Free Shipping
10 Children's Hardcover Books for ONLY $14.99 + $1.99 Shipping
Free shipping on any order of $10 or more.
Make it Fast 3-Book Set for $19.99 with free shipping
Taste of Home Magazine subscription for only $3.99
Diabetic Cookbook for $7.49 plus $1 Shipping
400 Chicken Recipes for just $9.99 plus Free Shipping
Reminisce 1940s DVD Set - Now: $10 and Free shipping. (Exp. 04/22/2012)
Taste of Home Holiday and Celebrations 2008 Only $5 with $1.99 Shipping. Expires on: Feb 15
2016 Annual Recipe! Get $10 Off favorite tested recipes.
$10 Off 2013 Reminisce Daily Planner
Get $2 Off Shortcuts Recipe Cards