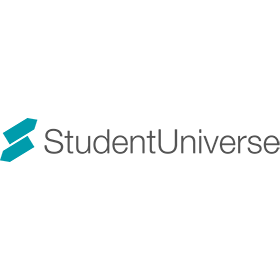 Visit Store
StudentUniverse Coupons, Promo Codes and Deals
9 Verified Coupons
Get $20 off 1 one-way or roundtrip international flight
Save an Extra $150 off when you book AirEuropa flight. Limited to the first 5 people. Excludes...
$100 off to Madrid, Geneva, Paris, Zurich. One day only: 11/3/2010. Only flights from Boston.
one day sale from SU: $100 off to madrid, paris, zurich and geneva. only flights from Chicago.
$100 off to Madrid, Geneva, Paris, Zurich for spring break 2011. Great deal, but only for 11/3/2010...
Save $100 on 1 roundtrip of Qatar airline flight ticket from Los Angeles for students. Travel...
Take $50 off one (1) one-way airline ticket valid only for flights on airberlin departing from...
20$ off for flights to china
one day sale: $100 off from SFO to PARIS, MADRID, GENEVA or ZURICH.
Save up to 40% on Hotels in Latin America. Stays between May and August 2016.
Get 30% Off Europe Hotels
Save an extra $75 on one-way flights or an extra $150 on roundtrip flights
Sweet deal! Get Up to $150 off flights Travel to Virgin Australia for Students.
Avianca sale! Get an extra $50 off all flights from the US to Central & South America on Avianca.
Get up to 25% Off On All Lenovo PCs.
Get up to an extra $100 off flights from US to Asia by Air Canada
Get Roundtrip Flights from the United States to select destinations within Central and South America from $371. Travel between December 2017 and Janua ...
Get an extra 15% Off Sun Country Sale. Valid on Sun Country Airlines. Travel between 11/28/2017 and 12/20/2017 or 01/03/2018 and 02/14/2018. Book by 1 ...
Get 20% Off amazing worldwide adventure tours.