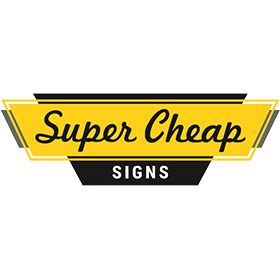 Visit Store
$0 avg. savings
Up to 5% Back
Super Cheap Signs Coupons, Promo Codes and Deals
22 Verified Coupons

Up to 5% Back
Get free shipping on orders over $249.
Get 100 Yard Signs for $179 (18" x24", 1 sided/1 color)
Get Free Shipping on order over $149
Get 10% off your purchase
Get Free Expedited Shipping On Orders Of $49 Or More. New Purchases Only.
Get Free Shipping Sitewide
Get 15% off shipping. Only works with Saver and Standard Shipping and doesnt work with other...
Get 50% off shipping on orders of $99 or more
Save 15% off on Big Campaign Signs at Super Cheap Signs! Use Code: BIGCAMP15. Valid on size...
Get $10 off $99.99 or more
Get 25% off Big Campaign Signs. Valid for 48 inches x 96 inches signs.
Get 10% off all Stinger Board purchases
Get 10% Off When You Buy 50 3x8 size Vinyl Banners
Get $5 off your next order when you sign up for email.
Save Up to $15.71 Each Full Color Yard Signs on Bulk Order: Volume Discount
Get Up to 10% Off Vinyl Banners on Bulk Order: Quantity Pricing Discount
Get $2 Off When you buy 50 Vinyl Banners of size 3x6
Save $26 Off Each When You Order 100 Aluminum Signs
Get 31% Off When You Buy 50 Mesh Banners of size 3x8
Save $6 Each When You Order 25 Personalized Street Signs