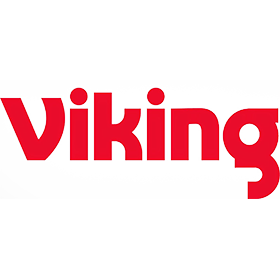 Visit Store
Viking Direct UK Coupons, Promo Codes and Deals
19 Verified Coupons
Get free Nail Art Kit with orders over A120 excluding VAT.
Spend an item worth A100 and get free Babyliss for men home hair cutting kit.
Get free Fitness Set on orders of AA65 or more.
Get a free 2GB Flash Drive on orders over AA50.
Get Handheld Vacuum Cleaner free with orders over AA75 or more.
FREE UV Nails Extensions when you spend AA120 or more.
Get free fitness set if you spend A65.
Get £30 off Orders Over £190
This weekend, customers can receive free delivery on all orders, regardless of the order amount.
Get a free Fitness Set when you spend A65 or more at Viking.
50% Off Selected Envelopes
Avail free shipping on purchase product.
Free neck toner on orders over A150.
30% Off Weather Station Clock Radio
Free Ice-cream Maker on Purchase of 3+ Boxes of Same Office Depot sure-seal Envelopes.
Get up to 33% Off IceMelt
Get Free shipping on Orders over £30
Free Folding Camping Chair Twin Pack on Order of A250+. Limited Stock Gift.
Free 3 Piece Black Hardshell Luggage Set on Order of A500+. Limited Stock Gift.
Up to 65% Off on Hand Towels
50% Off on Integral Neon Flash Drive.
Free Gym Ball Fitness Kit on Order of A175+. Limited Stock Gift.
Free Black & White Umbrella on Order of A100+. Limited Stock Gift.
Free Badminton Seton Purchae of 10+ Same Office Depot Coloured Lever Arch Files.