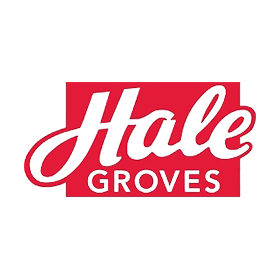 Visit Store
$0 avg. savings
Up to 10% Back
Hale Groves Coupons, Promo Codes and Deals
34 Verified Coupons

Up to 10% Back
Get free ground delivery to the 48 contiguous states.
Get

1-10%

back from your Hale Groves purchase with Honey.
Take 10% Off Your First Order
Get 10% Off Sitewide. Offer is for a limited time only.
Take 10% off your order. Limited time offer.
Get $15 off Item 453: 4 unique varieties in a 20 pack, only $19.99 + $5.99 shipping & handling....
10% off at Hale Indian River Groves - exclusions apply through 7/31/10
Get 15% Off orchard Fresh Peaches
15% OFF for a limited time with promo code 11741122.
10% off all online orders
Get Floridas Best Citrus Gift Box (item M170) for $39.98 + Free shipping.
Get 20% Off Select Holiday Gifts
$10 savings off hand-picked sweet oranges delivered to your door front. Great gift for family...
10% off any order through 11/15/10
Get 20% Off any order of Valencia Oranges
Save 15% on all online orders Expires 12/5/10
Save over 40% on Item M159 for $39.98 + Free Shipping
10% off all online orders
$5 off any order thru 12/16/10
Get 37% Off Snowman Cookie Jar
Get 10% Off Snowman Basket
Get 10% off your first order when you sign up for emails.
Get free upgrade to expedited shipping when you order from Express gift collection.
Take $5 Off The Worlds Finest Pistachios (12 oz. tin)
$3 Off Frosty the Snowman, Clementines
Save 10% on 2 Shipments of Grove Navels
Get a Free 16 of the best gift baskets on your order
33% Discount - box of 24 oranges norm $29.98, now only $19.98
32% Off 'Tis the Season, Navels & Apples
$5 Off Florida Classic Citrus Fruit Basket
Take $4 Off Honeybells Two 5 lb. Boxes