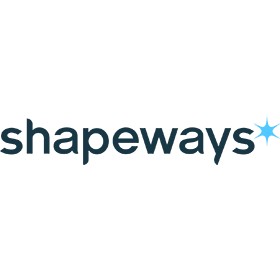 Shapeways Coupons, Promo Codes and Deals
Visit Store
$18 avg. savings
Up to 10% Cash Bonus
Save 10% on Nautica's Wrench (5mm)
Free shipping on first design
Get Free Shipping On $25+
Happy King's Day! Get 15% off all Orange, Blue, Red and White designs.
Get 15% Off Your First Order
Get 15% off first purchase of their own models.
Get 15% off your first order of your own model
Save 15% on your first order. 1 time only. Maximum $50 savings.
Get Free Shipping On First Order Of Own Model
Get $20 Off Sphere Cup in Avocado Green
Get 15% off All materials for Students when they join Education Program. Applies only to your own designs.
Get 45% Off Mini Vase in Glazed
Free $25 Coupon when you Purchase the Materials Sample Kit
Get 20% Off Eggbot in Satin Black
Get 35% Off 4-4 Sushi in Satin Black
Get Free Shipping on Gift Guide Products.
Get $28 Off Soapaduct in Glazed
Get $10 Off all Designs at Armstrong Design.