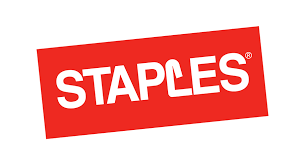 Visit Store
Staples UK Coupons, Promo Codes and Deals
20 Verified Coupons
Price after discount: A80. Valid for Henry Hoover Vacuum Cleaner.
A10 OFF your next order when you spend A40 or more - Exp: Nov 6, 2011
10% Off selected HP LaserJet Printer
AA5 off EPSON Cheetah T0715 quadpack ink cartridges.
10% Off HP LaserJet Pro M1212nf Printer and Toner
Price after discount: A25. Valid for Titian Managers Chair.
If Buy Assorted Colour Bic Biro Pens 10 Pack , You Get 1 Free.
AA40 Off on Canon Pixma MG4150 3-in-1 Printer plus AA10 Off on Staples Voucher Code
If Buy Black Ink Bic Biro Pens 10 Pack, You Get 1 Free.
Get 10% off selected office furniture
Save 15% off your next print order at the new Copy & Print Centre, online
Get Free Russell Hobbs Iron with orders over AA39 - Exp: Sep 30, 2011
Staples Gemini Managers Chair Only A29.99
Get Free Shipping on your order
Buy 1 Take 1 Free on HP Photo Paper
Get 20% off HP Envy 5530 3-in-1 printer for A47.99 delivered (reg. A49.99)
If Buy Bic Biro Pens 10 Pack , You Get 1 Free.
Up to 62% Off Furniture & Seating Clearance
34% Off Vertika Stacking Chair - Black/Red plus Free Next Day Delivery on Orders over AA30
50% Off Staples Sinatra Mesh Operator Chair plus Free Next Day Delivery
Up to 50% Off Technology Clearance
Up to 30% Off Post Room and Packaging
Free Shipping on All Orders AA30+
Up to 50% Off Ink & Toner Clearance