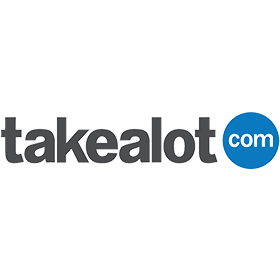 Visit Store
$0 avg. savings
- Cash Bonus
Take a Lot Coupons, Promo Codes and Deals
3 Verified Coupons
Get 10% Off Samsung Galaxy SIII Smartphone (32GB) + Free Shipping
Get 30% Off A Pale Horse Book
Get up to 50% Off Lego Sale Plus Free Shipping on Orders over R250
Get Free Shipping on Orders over R450.
Get 15% Off Easter eBooks
Get 40% Off Syma I-Copter
30% Off A Game of Thrones - The Story Continues (The Complete Box Set of All 7 Books)
Up to 50% Off Photographic Clearance Plus Free Shipping on Orders Over R250
Get 23% Off Lenovo L520 Notebook + Free Delivery
Get 17% Off Live In Berlin Blu-Ray
$200 Off Nikon D3100 18-55mm DX with 55-200mm VR lens + Free Shipping
Save 10% on all academic books & ebooks
Get Far Cry 4 pc Limited Edition for Rs. 399.